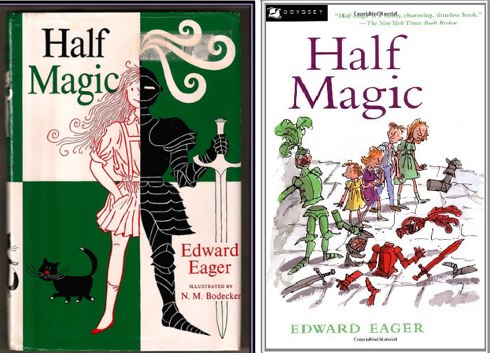 #1.Half Magic by Edward Eager
First published by Harcourt Children's Books, 1954
208 pages
I ended last year with one children's book, and started this year with another. As I mentioned before – well-written children's literature is at once very simple and complex, and reflects a sense of wonderment that is too often lost as we reach adulthood. Because of this, I find children's lit to be restorative and a true joy to read.
This is a book that I can easily imagine reading to a precocious six or seven year old. It's smart, witty, and remarkably rough around the edges for a children's book!
In Half Magic, four children rather fortuitously come across a magic coin during their summer vacation. After a few precarious mishaps they determine its secret – the coin grants wishes, but only in halves. Thus the children are required to use a certain amount of logic in order to dream up and traipse off on their grand adventures. And they really are quite grand – a trip to King Arthur's court, another to the desert, and even get caught up in a heist!
What I loved about this book is that I found myself laughing as I read, and had to bite my tongue from reading every other page out loud to my partner. It was a good start to the year.