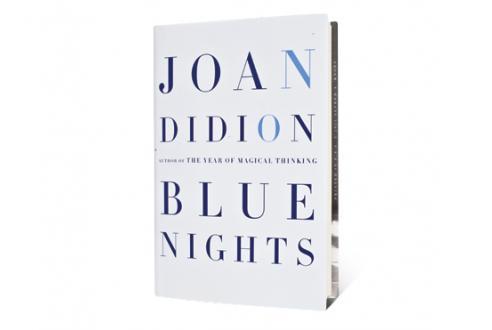 #2.Blue Nights by Joan Didion
Published by Knopf, 2011
188 pages
Two years ago, when I read Joan Didion's previous book, "The Year of Magical Thinking", I felt like I was being run over by a train. Books rarely have the capacity to move me this way.
The book, a poignant look at loss and grief, followed Didion through her experiences the year after her husband, John Dunne, had died. Simultaneously, her daughter Quintana Roo battled for her own life. I made the mistake of bringing the book into work, and found myself having to step into the back to cover up the tears and bright red splotches, relieve my swollen throat – I'm an ugly crier – as customers came in.
As I read, I felt panicky, helpless. Didion's life seemed to be a spinning compass of luck and the opposite. What is the opposite of luck? I wanted to be able to help… to do something. But then again, so did she. It seems as though Didion was cursed to experience tragic things and be able to write so well about them.
"At least," I remember telling my friend, a few weeks later, "…at least she still has her daughter." I recall that moment of squished confusion on her face when she had to tell me that the daughter had died.
And that is the subject of Blue Nights. Or one of them. Death, children, fear. Living, rituals. Past, future. Aging. In her descriptions of these things, Joan Didion proves to be a master.
I'm not sure that Blue Nights had the same raw feel as The Year of Magical Thinking, but I was deeply fulfilled by Didion's self admissions, and felt kinship in her anxieties. I appreciated the truth, parts of the truth, and the parts of the truth that were not truth at all.
***
She said one thing, a very wise thing, that will stick with me. "When we lose that sense of the possible we lose it fast." It's important, in the face of loss, fear, confusion, terror – to do what we can to retain the sense of the possible, and to make active choices to do so.