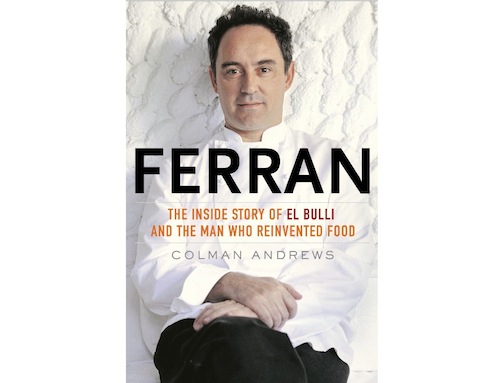 #25. Ferran: The Inside Story of El Bulli and the Man Who Reinvented Food by Colman Andrews
Published by Gotham, 2008
301 Pages
"Are you here for the Food + Wine Shoot?" someone asked me.
(This is where I should have lied and said, "Yes, of course! Food + Wine!")
Me: "No, I'm here to sit as an alternate for an fMRI psychology study. What is the shoot for?"
Guy sitting on a large pile of camera equipment: "Oh. Okay. It's a chef…he's not here yet. This guy.. Ferran Adrià? "
Me: "…"
Apparently, Ferran Adrià was in town to lecture at Harvard for the Science and Cooking Lecture Series. I didn't get to go to the talk, but I did happen to randomly be in the building (52 Oxford) while stand-ins were shooting b-roll film for Food and Wine on the topic of spherification. It was neat. I sat there gawking through a window. Science! Ridiculous cameras! Food and Wine! Ferran didn't come along for another several hours, but I wish that I could have just waited around. That would make two missed opportunities to meet him. (The other being at Omnivore, but I couldn't quite justify flying back to San Francisco for a weekend.)
*           *            *
I was sent a review copy of this book by Colman Andrews (co-founder of Saveur) about Ferran over a year ago, but somehow it got lost in my rather large collection of cookbooks, and I just recently got around to reading it. That happens. On that note, I laughed out loud this quote (found over here) from Junot Diaz in this article in the FT :
"Naturally, I buy more than I can read, so there is always at least a 100-book margin between what I own and what I've read. What's cool is that I've caught up a couple of times. But then I'll buy too much and the race starts again."
I have a similar margin, but I don't think I've ever caught up.
As far as 'Ferran: The Inside Story of El Bulli and the Man Who Reinvented Food' goes, I think it stands as a very good biography. You get a clear idea of Ferran's life. I had heard that the book was Colman Andrew's love-fest for Ferran, which, in a way it was. But I enjoyed it a lot. I'm not sure that you can write a biography about someone living who is so respected and accomplished and not sound like a fan-boy (or girl).
Although intrigued by his childhood, military experience (he cooked for a Navy admiral) and culinary education, I was most interested in reading about the methods of Ferran's creative process. Here are a few, none unique to Ferran, but he certainly does them better than most:
:: Record everything. And I mean everything. El Bulli kept incredible records (which you can in fact purchase in multiple huge volumes). It's a staggering amount of recorded process and progress. I've been thinking a lot about how to improve my record keeping. I keep lists, and detailed notes of many things, but I'd like to get better at it. I've always been impressed with moleskin art, and have a fascination with field notes and legendary artists' notebooks of any kind.
:: Share. Unlike the woman at the farmers' market this summer who snapped at us for asking about the ingredients in her muffin (yes, it's true), Ferran Adrià believes strongly in sharing. Recipes, techniques, process – all is done openly.
:: Collaborate. Not only with other chefs, but with artists of all mediums. There is a story in the book about Ferran staying with an artist for some time, as a sort of collaborative retreat. Now that El Bulli has closed, it will re-open as an institute to gather people together who want to think and create. It's amazing what types of things you can do just by spending time with people who look at life through a different lens than your own. I've been thinking lately, of the benefit of retreats, and thinking that maybe I'd like to host one with friends one day.
So that was my take-away. I've been thinking a lot about creativity in the last couple of weeks. To convert this buzzing into action, I re-watched Elizabeth Gilbert's TED talk about creativity, put Twyla Tharp's "The Creative Habit" in my library cue, moved forward with some creative projects that I'm interested in, and started making a few new lists.